2016 Eakin Philanthropy Award Recipients Announced

Rachel Harris. Let's Help Kids, Harris' organization, has donated $8,300 since 2011 to Rec-PAC summer camps and PACT camp scholarships for children in homeless shelters and supportive housing.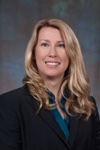 Northrop Grumman. Since 2001, Northop Grumman has provided donations of $109,600 to support programs such as the Land Preservation Fund and the Meaningful Watershed Educational Experience program, as well as support to Burke Lake Park, Frying Pan Farm Park and Clemyjontri Park.

The Ruth & Hal Launders Charitable Trust. The Trust partnered with the FCPA to create The Arrowbrook Centre Park in Herndon. The Park includes: a lighted synthetic field, a picnic pavilion with restrooms, a basketball court, two lighted tennis courts, a bocce court, a playground and trails. Since 2014, the trust has donated $50,000 to the Arrowbrook Centre Summer Concert Series.
The awards will be presented at a ceremony on November 18, 2016. More about the Eakin Awards.